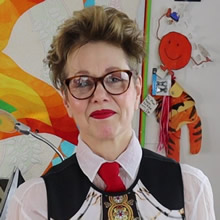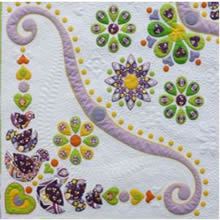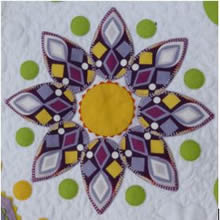 Inspirational Quilting and Appliqué
Join award winning quilter and textile artist, Philippa Naylor, on this exciting and inspirational three day course. Day one starts with a fabulous Free Motion Machine Quilting workshop, followed by a two day Machine Appliqué Masterclass. Through expert tuition, Philippa will guide you through your workshops making sure that you leave with a wealth of creative ideas and new found technical skills.

Date
Mon 6th April, Tues 7th April, Wed 8th April
Tutor
Philippa Naylor
Time
9.30am – 4.30pm
Ref
2529
Fees
£275 (Materials are not included in course fee)

6th April: Free-Motion Machine Quilting
Exploration of this wonderful technique begins with an in-depth discussion of materials, equipment and working methods. After extensive demonstrations students practise the techniques and sew a range of samples including wavy 'squares', spirals which grow into flowers, clam shells which become brick designs and feathers which evolve into all-over sophisticated stippling. They will leave the class feeling inspired, confident and keen to continue improving their skills.

7th and 8th April: Machine Appliqué Masterclass
Day one begins with turned edge appliqué and includes convex and concave curves, hearts, perfect points, and the smoothest turned edge circles you have seen! We will make samples and then look at ways of embellishing them with embroidery and purchased trims such as rick rack.
In the afternoon we explore satin stitch, with particular emphasis on the best threads to use, perfect satin stitch circles and how to deal with corners and points.


Day two sees us investigate fast raw edge appliqué, which will be sewn to a background fabric with either free-motion stitches or blanket stitch (single and multiple blanket stitch examined).
The afternoon of day two looks at all kinds of strip appliqué including continuous bias strips, rouleau loops, mitred strips and the skinniest bias strips to be seen!


Philippa will talk about compositions and explain how she creates the templates and patterns for her original appliqué designs.

A range of handouts and patterns will be given and can be used as a starting point for your own appliqué project - which might be a cushion or even a king sized quilt!

You will be sure to leave class with a of wealth creative ideas and may become an appliqué addict!